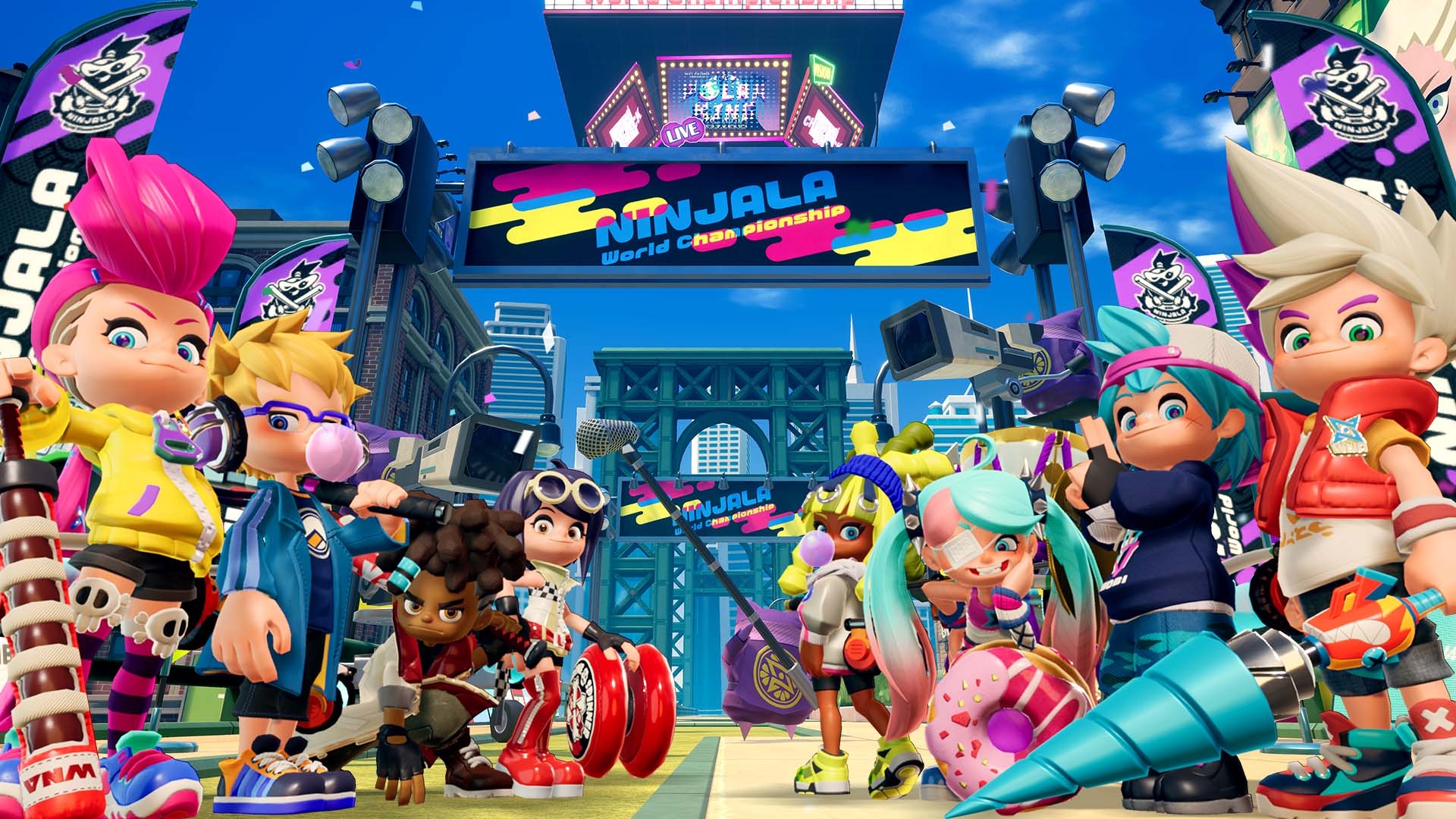 GungHo Online Entertainment ha pubblicato un nuovo update per Ninjala, aggiornato alla versione 1.2 sui Nintendo Switch europei.
---
---
ver. 1.2

Gum Weapon Parameter Adjustments

Thank you for playing Ninjala.

Since the game's release, we have observed our players researching gum weapons and becoming more and more proficient in wielding them. As a result, we have seen variations in gum weapon popularity, and are pleased to see a wide variety of gum weapons currently in use. The Ninjala development team is dedicated to ensuring that players can enjoy a wide variety of battling styles. After careful observation of winning percentages by gum weapon, ranking status, and so forth, we have implemented a host of balance adjustments.

– Firstly, we have made adjustments to the massively powerful "Ninja Yo-yo," as well as the Gum Ninjutsu "Piercing Mixer", which had been achieving extraordinarily high scores. In addition, we have implemented some tweaks to make the Gum Ninjutsu "Dragon Lord" and "Ninja Tornado" easier to use.
We hope this adjustment will allow players to further explore the allure of the full lineup of gum weapons.

– Damage dealt by the warp attack of the special "Yo-Yo Leap" has been reduced.

– Yo-yo-type weapons can be tricky to use, but master them and you'll be rewarded with high performance and a powerful gum weapon.

– The warp attack was so damaging and powerful, that in Battle Royale mode with a large weapon, the "Yo-yo Leap" special and a warp attack alone were enough to destroy a DARUMA (standard size) drone.
As a result, yo-yo-wielding players were able to destroy drones disproportionately faster compared to players using other gum weapon types, leading to score disparities.

– With this adjustment, we have reduced the damage dealt, so drones will take slightly longer to destroy than before.
We hope that this will serve to even the playing field against ninjas who attempt to destroy all the drones by themselves and quickly run away.

Ninja Tornado

– The attack strength of the Gum Ninjutsu "Ninja Tornado" has been increased.
"Ninja Tornado" renders the user invincible after activation and is useful for both offense and defense, but it was slightly lacking in decisive punch, so we've increased the attack strength a bit.
With this adjustment, in Battle Royale, KABUKI (large-type) drones can be destroyed in a single hit, giving you an advantage in the battle to destroy more drones than your opponents.
This will also require all ninja to be more careful when low on life

Dragon Lord

– The attack strength of the Gum Ninjutsu "Dragon Lord" has been increased.
The "Dragon Lord" Gum Ninjutsu offered relatively low attack power, but made up for this with a rapidly refillable ninjutsu gauge.
However, it often failed to finish off opponents, making it difficult to make effective use of in battle.
With this adjustment, the attack power has been increased so that it can now destroy a DARUMA (normal-size) drone with a single hit.
We hope it can now be used more effectively in a wide variety of situations, against opponents, drones, or both.
Dragon Lord has been reborn as a more powerful dragon. We look forward to seeing it bear its fangs in battle.

– The tracking time of the Gum Ninjutsu "Dragon Lord" has been extended.
The duration it homes against your opponents has increased, making it harder to evade.
Furthermore, it can now be effectively used to attack enemies farther away than before.

– The ninjutsu gauge capacity required to activate the Gum Ninjutsu "Dragon Lord" has been slightly increased.
To reflect the enhanced power and abilities of the "Dragon Lord" ninjutsu, the ninjutsu gauge cost has been increased slightly.

Feature Additions and Adjustments

– Tier Points have been adjusted. Players will now receive 4x more Tier Points at match end.
– Lobby waiting time has been reduced from 60 seconds to 30 seconds.
– When matching for Battle Royale, the battle can be started if there are 6 or more participants.
– When matching for Team Battle mode, battles can now be started when there are 3 players on each team.
– Player level required to unlock the Ninjala Battle and Invite functions has been reduced from level 5 to level 3.
– In-game tips information has been updated.
– Tips now display when transitioning from the Standby Dojo to the start of battle.
– The Online Manual can now also be accessed from a banner in your base.
– When configuring room battles, passwords can no longer be visually recognized after input.
*To completely prevent the password from being identified on the game screen, you must have a USB keyboard connected.

Resolution of Known Issues

– An issue where extremely poor transmission speeds would cause identification of teammates and opponents has been resolved.
– An issue where extremely poor transmission speeds would cause glitches in the stage display when transitioning to the standby dojo has been resolved.
– An issue where being hit by the Gum Ninjutsu "Tenchi Muyo" would occcasionally cause players to freeze in midair has been resolved.
– An issue wherein loading favorite costumes in the Matching Lobby would cause your avatar icon to not display properly has been resolved.
– In addition to the above, other issues have been resolved to ensure a smoother, more enjoyable game experience.
---
Il titolo action free-to-play di GungHo Online Entertainment, Inc. è disponibile dal 25 giugno 2020 in esclusiva per Nintendo Switch.
La trama di Ninjala prevede il respingimento di un attacco da parte dei ninja spaziali invasori, con protagonista Van, assieme al suo mentore Master Gramps.
---
An online action battle game featuring ninja and gum! Assume the role of a modern-day ninja and take part in the Ninjala tournament!

Ninja-Gum

Use Ninja-Gum to blow bubbles that can be tossed at your foes, craft all sorts of weapons, and dash across stages.

The appearance and variety of your weapon will vary depending on the type of Ninja-Gum you use.

Competitive Player

Take part in Battle Royale-style matches of up to 8 players and vie for supremacy with ninja around the world. The player who earns the most points over the course of the match will be declared the winner. Score points by defeating your opponents, obtaining items, destroying drones positioned across the stage, and more. Earn extra points by taking down your opponents with an IPPON—impressive finishing techniques.

Cooperative Play

Join up with friends and take part in a 4-on-4 team battle. Cooperate with your teammates and earn more points than the opposing team to be declared the winner.

Avatar

A colorful variety of costumes and accessories from an array of unique fashion brands are available. Choose from a wide variety of avatar items which can be combined as you see fit. You can stick to one brand for a consistent look, or mix and match to create a style all your own!