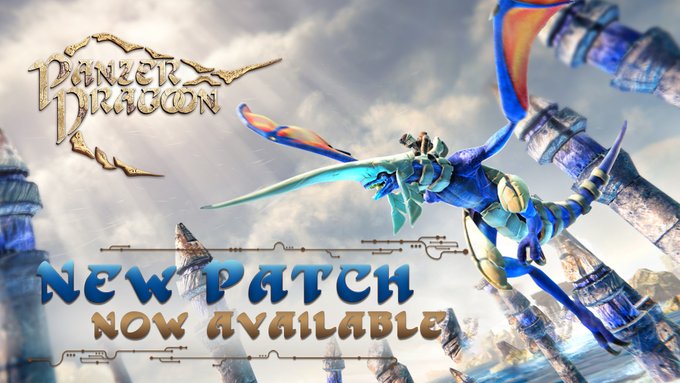 Qualche ora fa e' stato pubblicato un aggiornamento per Panzer Dragoon: Remake, ora scaricabile sui Nintendo Switch europei.
Il classico titolo rilasciato su Sega Saturn nel 1995, ritorna in auge con un remake, disponibile dal 26 marzo 2020 anche sui Nintendo Switch europei e americani.
Potete trovare il changelog dell'update, in calce all'articolo.
The new #patch is now live – make sure your game is up to date!

– Additional OST by Saori Kobayashi
– Main SFX rework
– Fix for statistics and save data
– Updates for cutscenes
– New indicators when the enemy is immune to attacks
– HP adjustments for balancing the gameplay pic.twitter.com/YAaSq372DG

— Panzer Dragoon: Remake (@PanzerDragoonRE) April 2, 2020
---
Una versione tutta nuova del gioco Panzer Dragoon, fedele all'originale, ma con grafiche e controlli migliorati conformi agli standard dei giochi moderni!

Su un pianeta lontano e solitario, incontrerai due draghi risvegliati dall'antichità. Equipaggiato con un'arma letale proveniente dal passato e guidato dal tuo corazzato drago blu, dovrai compiere il tuo destino e impedire al Drago prototipo di raggiungere la torre, o morire nel tentativo.

Pilota attraverso sette incredibili livelli super realistici, da città che affacciano su oceani tropicali a intricate rovine sotterranee.
Combatti contro il Drago prototipo che compare assieme a gigantesche libellule malvagie, terribili vespe di dimensione umana, enormi arenicole e navi da guerra volanti letali.
Attacca i nemici senza pietà avvicinandoti rapidamente da ogni lato grazie ai controlli migliorati a 360 gradi e la possibilità di agganciare il bersaglio.