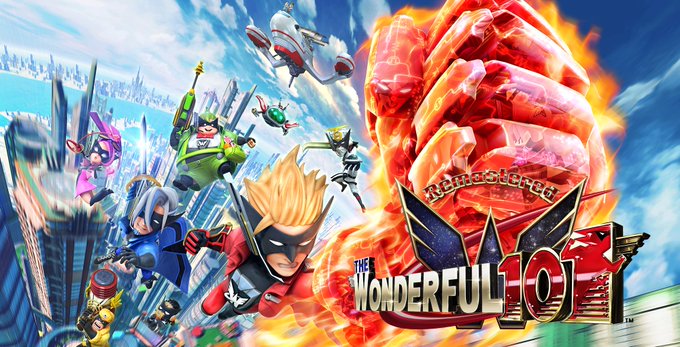 Platinum Games ha recentemente aperto una campagna Kickstarter dedicata a The Wonderful 101: Remastered, in arrivo su Nintendo Switch.
In pochissime ore la campagna Kickstarter del remastered del noto action di Platinum Games uscito su Nintendo Wii U nel 2013, e' stata completata superando di netto l'obiettivo dei €45.127, di conseguenza con una release nei prossimi mesi anche su Nintendo Switch.
Potete trovare informazioni sul titolo e la pagina Kickstarter di seguito.
---
---
The Wonderful 101 is a "Unite Action" action-adventure game developed by PlatinumGames Inc., directed by action game luminary Hideki Kamiya, and originally released on the Nintendo Wii U.

In this game, players take control of the Wonderful Ones, heroes from all over the world chosen to defend the Earth from all manner extraterrestrial threats! When the peaceful Blossom City comes under attack by alien invaders, Wonder-Red, Wonder-Blue, and the rest of the Wonderful Ones suit up and unite to save the world!

The Wonderful 101: Remastered will be released on Nintendo Switch, with versions for other platforms becoming available via stretch goals. We also plan to add a host of amazing extras as stretch goals are met, with the goal of making The Wonderful 101: Remastered the definitive depiction of our heroes' exploits!

#ALLFOR101

Physical copies of The Wonderful 101: Remastered distributed as backer rewards will include a Special Backers Only Kickstarter-exclusive cover! Additionally, backers will receive DLC unlocked via stretch goals for FREE!

Unite with fellow backers and participate in this live Social Media Challenge to unlock even more rewards!

#ALLFOR101

To help Wonder Red rescue the civilians from the villainous Gacha, click this link and send the tweet. The civilians will be saved after 1010 tweets have been sent.

What is The Defense of Blossom City?

The Defense of Blossom City is a Social Media Challenge for all backers to play during the Kickstarter campaign. The game will start with a single Wonderful One traveling through Blossom City on the Virgin Victory, protecting the city from invaders.

The size of the Wonderful Team will grow by 1 member every 500 backers.

Each new member on the team will raise your Wonderful Power. The more Wonderful Power gained throughout the campaign, the easier it will become to clear social goals, and unlock awesome new rewards for all backers to enjoy!

Get Blocked by Kamiya

Not everyone has had the privilege of being blocked on Twitter by the illustrious Hideki Kamiya, but that's all about to change. At a very special Kickstarter tier, Kamiya himself will tweet directed to you, and then will block you forever!

NOTE: This is an optional reward! You do not have to be blocked by Kamiya if you do not want to be!

The Wonderful 101: Remastered Digital Version

Right on! A Digital Key for TW101, straight from P-Star to you!

The Wonderful 101: Remastered Physical Version

Looking for something more… physical? This is the physical edition of The Wonderful 101: Remastered, with backer exclusive box art!

101 Keychain

Hold on to a little piece of the W101 wherever you go! This is a gold keychain emblazed with the burning red justice of the W101!

Wonderful Sticker Set

UV coated 2″ vinyl stickers of the main cast of heroes, perfect for indoor or outdoor use.

Centinels Identification Card

Show your allegiance to the CENTINELS with this Wonderful 101 card, a recreation of the membership badge  card each Wonderful One gets upon joining the cause.

Wonder-Pendant

While not actually equipped with a Psychic Switch, this recreation of the Wonder-Pendant owned by every Wonderful One will show the world that you're ready to save the world at the first sign of trouble!

Wonderful T-shirt

Represent The Wonderful 101! This tee signifies your support of the W101, and your hidden power to help them defeat evil!

The Wonderful 101 Digital Comic

Follow the adventures of the Wonderful Ones in a brand new Kickstarter exclusive comic book, in digital PDF form!

The Wonderful 101 Physical Comic

Follow the adventures of the Wonderful Ones in a brand new Kickstarter exclusive comic book, in classic paperback form!

Wonderful Acrylic Diorama

The Wonderful Ones strike iconic poses on their own, but together, they can't be beat! This acrylic diarama features three layers of Blossom City's greatest heroes, and their iconic logo.

Wonderful Artbook

A soft cover art book that contains the artistic creation of the game from the team at Platiunum Games!

Abridged Digital Soundtrack

Jam out to The Wonderful 101 with a digital download of The Wonderful 101's Abridged Soundtrack, a selection of music tracks from the game's full soundtrack!

Abridged CD Soundtrack

Want to pump yourself up with some super jams? This is the physical edition of the Abridged soundtrack, perfect for your car stereo!

The FULL Soundtrack

Need even more music? This 5 disc CD set contains all the songs from The Wonderful 101: Remastered, plus a free digital download!

Vinyl Record

Get it on Wax! For the first time ever, we're offering a Platinum selection of songs from The Wonderful 101: Remastered on 12″ vinyl!

Wonderful Keshi Figures

Individually they're great, but together, they're Wonderful! Each of these Wonderful One toys is ready to handle evil on its own, but together, they make for an adorable, multicolored army! No one will be able to stop them!

Custom Controllers

Want a little more flair in your gaming? These custom hand painted controllers are made one of a kind for you!

Artbook "Thank You"

Have your name honored in the art book! You'll get a credit for helping make the game possible!

Super Platinum Trophy

It's a really special feeling when you complete a level in The Wonderful 101: Remastered with the highest score and receive that beautiful platinum trophy. Well, now you can bring that feeling to life with the limited edition physical platinum trophy, full size and ready to sit on your shelf.

Wonder-Mask

When fighting the forces of evil, it's best to keep your identity secret, and there's no better way to do it than with an authentic replica of the Wonder-Mask, painstakingly created to be worn!

Wonder-Red Jacket

If you're going to save the world, you need to do it in style. That's why we're offering a limited number of leather jackets, styled after Wonderful 100's illustrious team strategist, Will Wedgewood, better known as Wonder-Red.

Framed Button Display

An 18″ x 24″ framed display of all the badges from The Wonderful 101: Remastered! Perfect for the button or justice enthusiast!

12″ Wonder-Red Figure

A custom made 12″ figure of Wonder-Red! Let them stand vigilant over and always be on the lookout for evil! Mock-ups and more detailed info on this Wonderful reward will come in a future update!

The young leader of the Wonderful 100. Having just joined the Wonderful Ones after finishing a year of comprehensive training, Earth Defense War III is his first experience in combat.

Though technically still a rookie, he is extremely gifted, achieving a record score in both the written and field sections of the CENTINEL tactical examinations. Brimming with passion for justice, he takes a firm stance against those who threaten peace, but his by the books attitude and serious personality can occasionally rub people the wrong way. Sometimes Red's seriousness crosses the realm of reason, and those around him find getting through to him almost impossible. The opposite is rarer, though, as Red has an incredible memory, and never forgets something after being told.

His deep crimson CENTINEL-Suit boasts balance in all levels of performance, demonstrating diverse aptitude in any mission. The Vulcan Knuckles equipped to both his arms are capable of intense blows and machine-like accuracy, which can be even further increased in power via the "Unite Hand" Unite Morph technique.

A Wonderful One whose cover occupation is as a detective for the Los Angeles Police Department. Though young, he has gained experience and success in a variety of missions: taking down warring mafia families, counter-terrorism, and even taking part in military operations.

Having a strong sense of identity, and a stronger dislike for authority, Blue is not the easiest Wonderful One to deal with in the organization; however, his ability to act quickly and make decisions in the blink of an eye has led to a chain of successful missions. Yet, despite these successes, his hot-headed personality has makes Blue prone lose himself in anger, peppering his record with a significant number of failures.

Blue insists on making a scene for everyone to see, so in combat he acts arrogant, taunting the enemy, and is prone to posturing into different poses that might look "cool." Unfortunately, reactions to his antics are conspicuous in their absence.

Poor at teamwork and preferring to work alone, Blue does not actively try seek meaningful relationships with others. Instead, he accepts only those who are able to prove their skills, but this acceptance leads to a deep respect.

His weapon, the Valiantium Blade, is said to become sharper with every slice, forged with a special alloy able to cut through anything in the galaxy. His Unite Sword can deal lethal blows to even battleships.

Chose to be a Wonderful One due to his incredible skill with firearms and other ranged weapons, Wonder-Green is currently a mere middle school student. Yet, despite his youth, it is said that he can shoot through the hole of a donut a 100 kilometers away, while eating a donut himself.

Possibly due to his privileged upbringing, he often seems to feel like the world revolves around him and is prone to ignoring the reality of his surroundings. He also unwittingly rude, leading to occasional clashes with Blue and Pink; clashes Green himself seems unbothered by. In fact, at least with Pink, he almost seems to enjoy being scolded.

Even during the tensest of missions, he possesses a completely carefree nature; that is until something goes south, then he instantly breaks into panic. Far clumsier than most would ever suspect for a Wonderful One, the world prays that the care with which Green uses his rapid-fire proton gun Christine Daaé is another, more careful, side of him that holds great pride in his position. (Or so the world hopes…)

He has developed a close friendship with Black, as both are similar in age and love video games, comics, cartoons, and general mischief-making. This mischief-making extends to his love of junk food, a forbidden fruit under his parents, but a near constant indulgence as Green partakes in missions far beyond their strict reach.

Chosen to go to the Olympics in gymnastics while still in high school, Wonder-Pink is by far the most flexible and agile of any Wonderful One. She matches this with an advanced proficiency in melee weaponry, specifically with her Beautiful Whip, knit from a next-gen stay-press alloy "Belmont alloy," for which she is unrivaled.

ink is known for her "laissez-faire" personality, behaving carefree and sunny during even the most severe missions, as if her duties were just another after school club; however, it is that relaxed attitude that, more often than not, spells disaster for the team. Exceedingly sensitive towards trends, she has decorated her issued weapon with a variety of accessories, and her tendency to prioritize fashion over the mission can occasionally give her superiors headaches. Nevertheless, Pink's excellent physical aptitude and peerless acrobatics have led the team to countless victories.

Extremely emotional, she sometimes reveals her terrifying true colors when angered. Pink is especially sensitive to anything said by Green, and she will gladly turn her tormentor into her whipping boy when set off.

Plus many many more heroes!