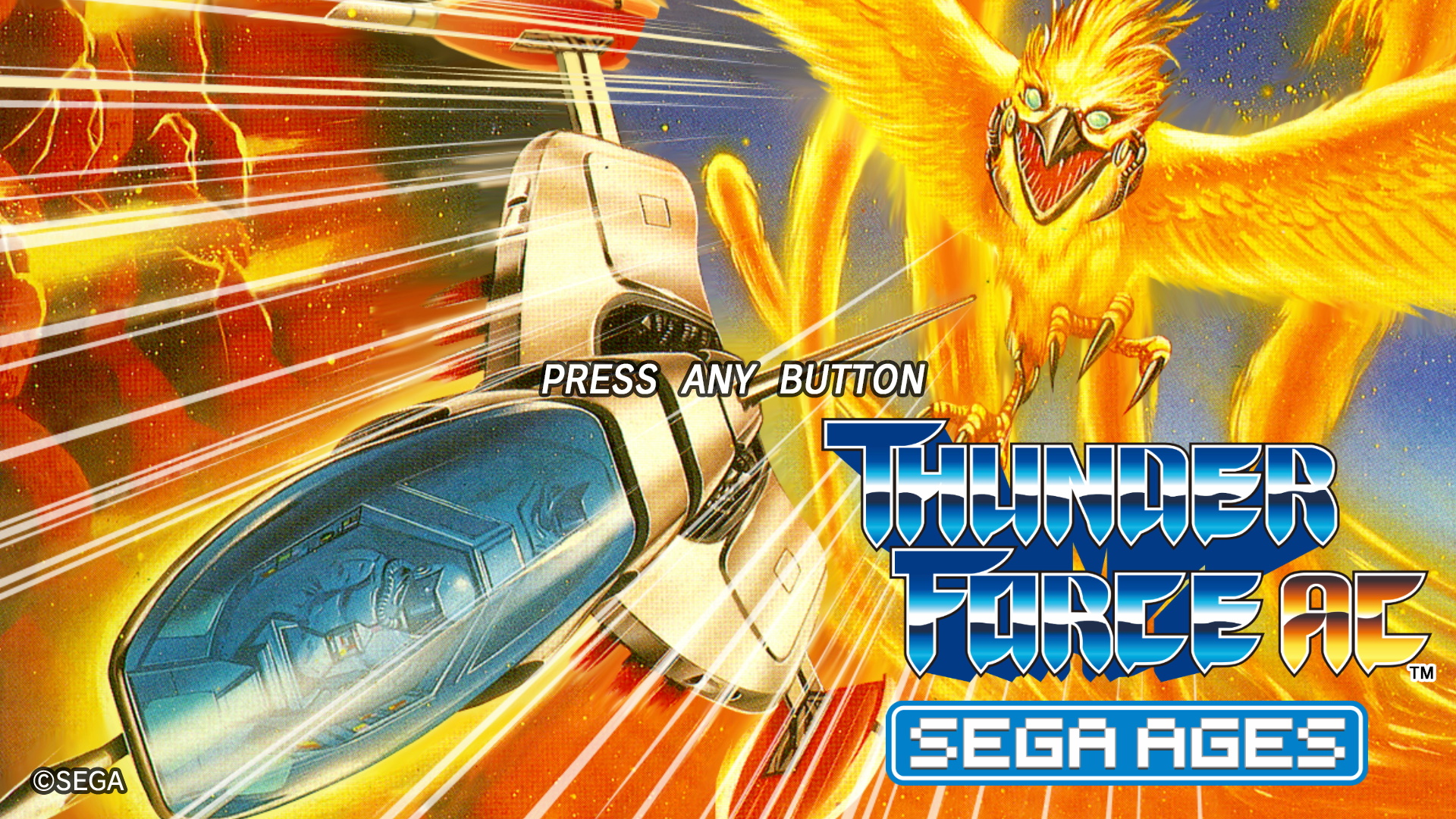 Poco fa abbiamo pubblicato un video gameplay dedicato a Sega Ages: Thunder Force AC, nuovo classico della linea SEGA Ages su Nintendo Switch.
Sega Ages: Thunder Force AC sarà disponibile dal prossimo14 maggio 2020 sull'eShop giapponese di Nintendo Switch, al prezzo di 999 yen.
SEGA Ages è una nuova serie di titoli "classici" in formato digitale, realizzati dalla solita M2 per l'eShop di Nintendo Switch anche sul suolo europeo.
---
Tra i giochi proposti, che saranno oltre quindici di numero, potremo trovare classicissimi come Sonic the Hedgehog, Thunder Force IV e Phantasy Star, oltre a Alex Kidd in Miracle World e Gain Ground.
---
■Modes – Arcade Mode

Faithfully ported from the original arcade version of Thunder Force AC, Arcade Mode is the main mode of the Sega Ages version. It is based on the Sega Saturn version of Thunder Force III, but with reconstructed game balance. Some stages have been changed to new stages different from Thunder Force III. There are four playable ships, which will unlock based on your gameplay results. By setting the version to "New" in the options, the mode will play based on the overseas version, increasing the performance of your ship.

Kids Mode

An easy mode for those who find Arcade Mode too difficult. In addition to higher attack power, you will not lose your weapons if your ship is destroyed.

Leaderboards

There are two leaderboards for each of the four ships. The "Expert" leaderboards are for when the game is played in the initial settings of Arcade Mode (old version, normal difficulty, three lives, etc.), while the "Freestyle" leaderboards are for when the settings have been changed.

■ Ships

In Sega Ages Thunder Force AC, players can choose from four ships. The ship can be selected from the menu screen. This is possible in both Arcade Mode and Kids Mode, no matter which mode they appear in.

Fire Leo-03 Styx

A highly mobile fighter developed by the efforts of the Galaxy Federation. While small, its firepower rivals that of a large battleship. This is the only ship you can choose at first. It has five weapons—Tin Shot (Sever), Back Fire (Lancer), Wave, Fire, and Hunter—and can equip the Claw and Shield.

Fire Leo-03MP Styx Mass Product

The Mass Product-type Styx that appears in Thunder Force IV, which is set two years after Thunder Force AC (III). It is a technical ship with enhanced backfire when changing speed, which can be used to attack and obtain a high score. Also, by adding a button setting, you can use a "Roll" attack when the Claw is equipped.

Fire Leo-04 Rynex

The main ship from Thunder Force IV, and the next-generation of super highly efficient fighters. It has five weapons—Twin Shot (Blade), Back Shot (Rail Gun), Snake, Free Way, and Hunter—and can equip the Claw and Shield.

Fire Leo-o4 Rynex (Equipped with Thunder Sword)

The Rynex equipped with the ultimate weapon, which appears in the latter half of the Thunder Force IV story. In addition to the Rynex equipment, you can fire the "Thunder Sword" (the ultimate weapon) by equipping the Thunder Claw.

■ Sega Ages Features

You can save and watch replays, as well as watch replays of advanced players from the leaderboards. Also, the sound has been converted to stereo (though some is monaural). There is also an "HD Rumble" feature that you can turn on or off in the settings. The screen settings can also be changed to the CRT-like "Vintage" mode, arcade atmosphere-like "Cabinet" mode, and more.