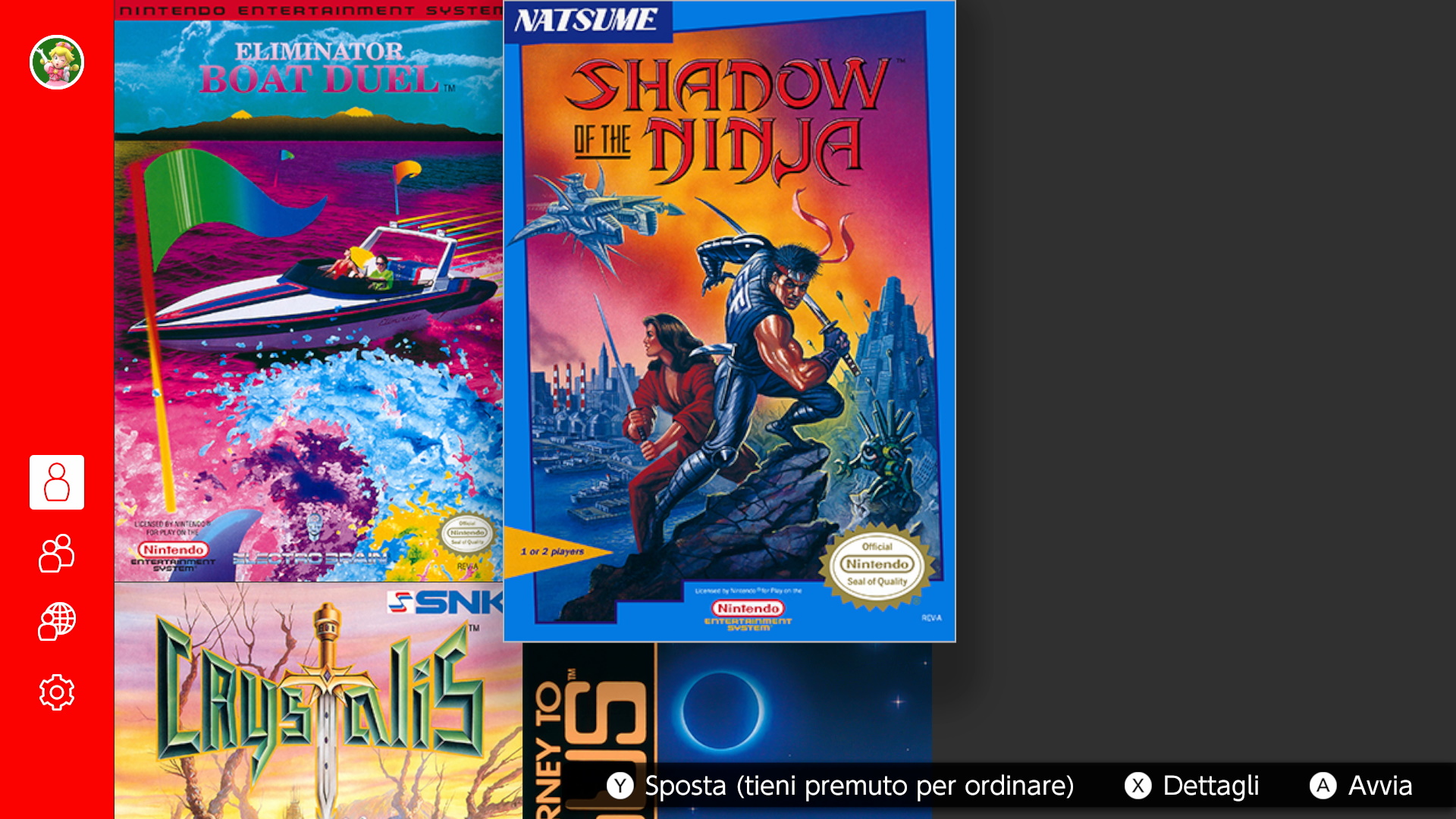 Nintendo ha recentemente rilasciato versione 4.2.0 dell'app del Nintendo Switch Online, ora scaricabile sui Nintendo Switch europei.
Titoli classici per NES come Shadow of the Ninja e Eliminator Boat Duel, sono ora disponibili nell'app del Nintendo Switch Online.
---
Il Nintendo Switch Online è disponibile dal 19 settembre 2018, e permetterà all'utenza di accedere al multiplayer online dei vari titoli per Nintendo Switch, come Splatoon 2, ARMS, Mario Kart 8 Deluxe e il nuovo Super Smash Bros.
Come annunciato ormai eoni fa infatti, con Nintendo Switch Online si potranno ottenere diversi classici per NES giocabili in modalità multiplayer online con altri giocatori.
Tra questi sarà possibile giocare classici come, Soccer, Tennis, Donkey Kong, Mario Bros., Super Mario Bros., Balloon Fight, Ice Climber, Dr. Mario, The Legend of Zelda, Super Mario Bros. 3, Double Dragon, River City Ransom, Ghosts'n Goblins, Tecmo Bowl, Gradius, Pro Wrestling, Excitebike, Yoshi, Ice Hockey e Baseball.
Col servizio saranno disponibili dei salvataggi in cloud (benvenuti nel futuro), permettendo così il facile recupero dei salvataggi (apparte qualche eccezione), anche nel caso in cui cambierete la vostra console.
Crystalis – An epic story for action-RPG fans is ready to unfold. Set in a world where civilization lies in ruins, the young protagonist awakes from cryogenic sleep and the adventure begins. Collect the Sword of Wind and venture into the unknown.

Journey to Silius – Join Jay on his run-and-gun mission to take down the mechanical army responsible for his father's death. Defeat endless waves of attack robots and fulfill his father's dream of developing a space colony in the Silius Solar System.
---