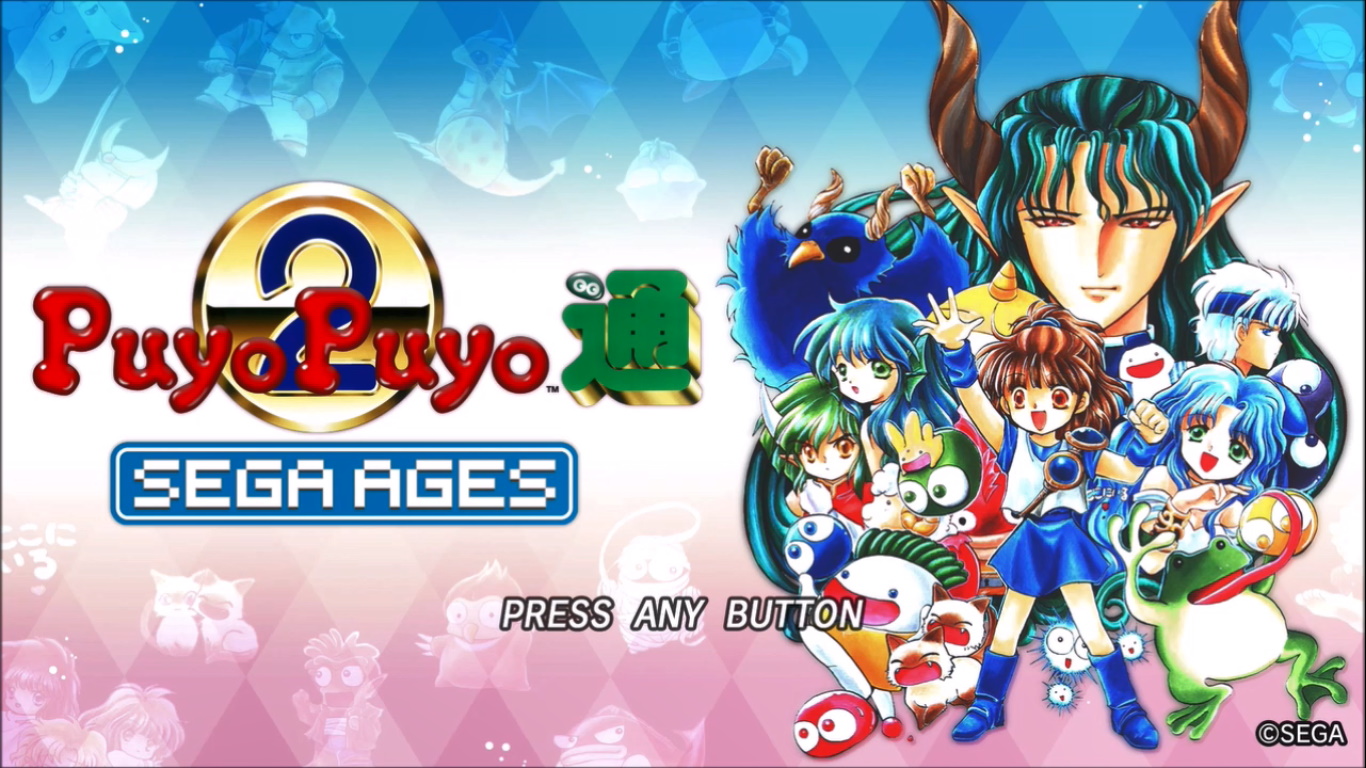 Poco fa abbiamo pubblicato un video gameplay dedicato a Sega Ages Puyo Puyo Tsu, nuovo titolo della linea SEGA Ages su Nintendo Switch.
Puyo Puyo e Puyo Puyo Tsu andrà ad affiancarsi a già la corposa serie di classici nella raccolta "SEGA AGES" sull'eShop di Nintendo Switch, dal prossimo 16 gennaio 2020 al prezzo di 999 yen.
---
SEGA Ages è una nuova serie di titoli "classici" in formato digitale, realizzati dalla solita M2 per l'eShop di Nintendo Switch anche sul suolo europeo.
Tra i giochi proposti, che saranno oltre quindici di numero, potremo trovare classicissimi come Sonic the Hedgehog, Thunder Force IV e Phantasy Star, oltre a Alex Kidd in Miracle World e Gain Ground.
---
■ Gameplay Modes

Arcade Mode

A mode where you can play the original arcade mode of Puyo Puyo Tsu. Score-based online rankings are also supported. When you start up the game, you can switch on or off the "time rewind" feature, which can be used to go back one Puyo.

Tournament Mode

A mode where you battle every rival in the tower.

Two-Player Puyo Puyo Mode

A battle mode playable on a single Switch.

Online Battles

Network-based battles are also supported. Create a room with your friends and battle, or play against other players in random matches.

■ Other Modes

Character Introductions

Introductory text on the 30-plus characters that appear in the game, including Arle, Carbuncle, and more.

Screen Mode

In addition to normal and dot-by-dot modes, there is also a "vintage" screen mode with a CRT atmosphere and a "cabinet" mode that feels like playing at an arcade.

Puyo Color Settings

A feature to adjust the colors of the five Puyos. You can choose from five types of colors. Set a color for each Puyo that is the easiest for you to see.