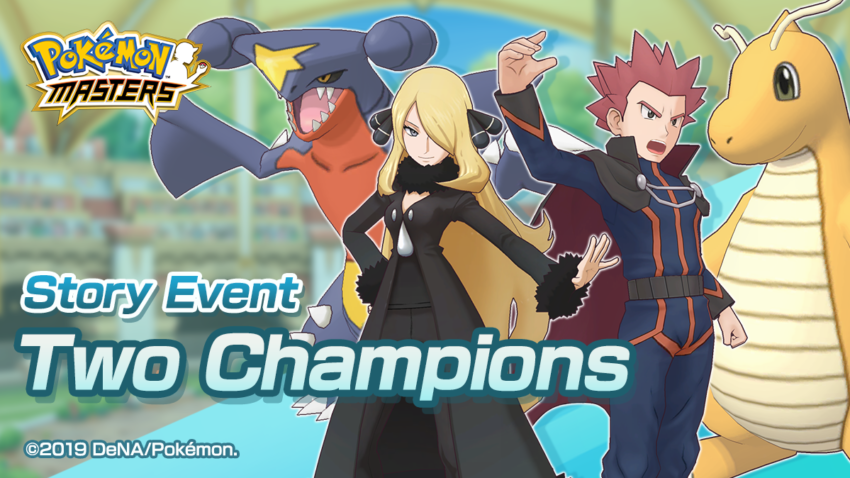 Il servizio notifiche di Pokèmon Master, ha rivelato l'arrivo di nuovi eventi che introdurranno nel titolo mobile Camilla, Garchomp, Lance e Dragonite.
Pokèmon Master, il nuovo titolo dei mostriciattoli tascabili realizzato da DeNA per dispositivi mobili iOS e Android, è infatti disponibile dal 29 agosto 2019 gratuitamente sui due store.
Potete trovare le novità in merito agli eventi, in calce all'articolo.
Pokémon Masters Adds New Pokémon Solgaleo, Dragonite, and Garchomp, Along with Trainers Cynthia and Lance

Content update brings new partner Pokémon and playable sync pairs to the game

TOKYO—January 2, 2019— DeNA Co., Ltd., in partnership with The Pokémon Company, announced several content updates now available for Pokémon Masters, a real-time battling and strategy game for compatible iOS and Android devices.

Players can now pair the game's Main Character with Solgaleo, the Legendary Pokémon originally discovered in the Alola region. The introduction of Solgaleo marks the second Legendary Pokémon to arrive in Pokémon Masters, which also saw Mewtwo added to the game for a limited time in December. This update provides the player with even more customization and choice, as the Main Character can now be paired with Solgaleo, Torchic, or Pikachu as their partner Pokémon. To commemorate this character introduction, an in-game event titled "The Beast That Devours The Sun" is now available until January 21 at 9:59PM Pacific Time, and allows players to earn special items required to "Unlock Level Cap" and learn "Moves & Skills" for Solgaleo.

DeNA also announced the arrival of two highly-ancitipated Dragon-type sync pairs to the game. Lance, first seen in Pokémon Red and Pokémon Blue, is now available and forms a sync pair with his partner Pokémon Dragonite. Cynthia, the Sinnoh region Champion from Pokémon Diamond and Pokémon Pearl, has also been added to the game with her partner Pokémon Garchomp. Players will be able to add these sync pairs to their teams via character-specific sync pair spotlight scouts. There will also be an in-game story event titled "Two Champions" that will take players on a journey with these two Dragon-type sync pairs. The character-specific sync pair spotlight scouts and story event will be available from now until January 21 at 9:59PM Pacific Time, and is available to players who have completed Chapter 4 of the Main Story.

To celebrate these exciting new updates, an in-game event titled "The New Year's Rally" will be available for a limited time from now until January 21 at 9:59PM Pacific Time, and will reward players with up to 7,000 gems for playing special missions and logging into the game. As a special treat, The Pokémon Center in-game will also be decorated with a festive background throughout this time period.

Players can check the in-game menus for more information. Note that in-game event dates are subject to change without notice.

T

he game 

is

 available in English, French, German, Italian, Japanese, Korean, Spanish, and Traditional Chinese. Fans can learn 

more

 about Pokémon Masters at 

https://pokemonmasters-game.com

/en-US

.

---

About DeNA 

DeNA (pronounced "D-N-A") develops and operates a broad range of mobile and online services including games, e-commerce, entertainment, healthcare, automotive and other diversified offerings. Founded in 1999, DeNA is headquartered in Tokyo with over 2,000 employees. 

DeNA's

 aim is to delight and impact the world through the use of the internet and AI. DeNA Co., Ltd. is listed on the Tokyo Stock Exchange (2432). For more information, visit: 

dena.com/

intl

/

.

  About Pokémon 

The Pokémon Company International, a subsidiary of The Pokémon Company in Japan, manages the property outside of Asia and is responsible for brand management, licensing and marketing, the Pokémon Trading Card Game, the animated TV series, home entertainment, and the official Pokémon website. Pokémon was launched in Japan in 1996 and today is one of the most popular children's entertainment properties in the world. For more information, visit 

www.pokemon.com

.
---
---

Preparatevi, Allenatori! DeNA Co., Ltd ha appena rilasciato un nuovo trailer che svela ulteriori dettagli su Pokémon Masters, presto in arrivo. Guarda il video per sapere cosa ti aspetta in questo gioco di lotta strategico per dispositivi mobili iOS e Android compatibili in arrivo quest'estate.

Dai un'occhiata in anteprima al sistema di lotta in tempo reale 3 contro 3 di Pokémon Masters, in cui gli Allenatori affiancano il proprio Pokémon formando Unità capaci di sferrare potentissime Unimosse. Affina le tue abilità nella lotta unendo le forze con altri due giocatori e affronta insieme a loro avversari controllati dal computer. Durante queste Lotte Multisquadra avrai la possibilità di innescare un devastante Attacco combinato, che non è disponibile nella modalità di gioco in singolo.

Una volta formata la tua squadra ideale, scopri quali Allenatori possono apparire anche in un completo speciale, il Costumax. Gli Allenatori che indossano il Costumax lottano con un Pokémon diverso da quello che è solitamente al loro fianco.

Oltre a tutti i personaggi che abbiamo imparato a conoscere attraverso le storie della serie Pokémon, Pokémon Masters include anche nuovi personaggi originali, tra cui il misterioso principe Kelian, il fondatore del World Pokémon Masters e fondatore dell'isola artificiale di Pasio, l'ambientazione di questo gioco.

Goditi il trailer e preparati a collaborare con altri Allenatori in modo del tutto nuovo in Pokémon Masters, in uscita quest'estate!