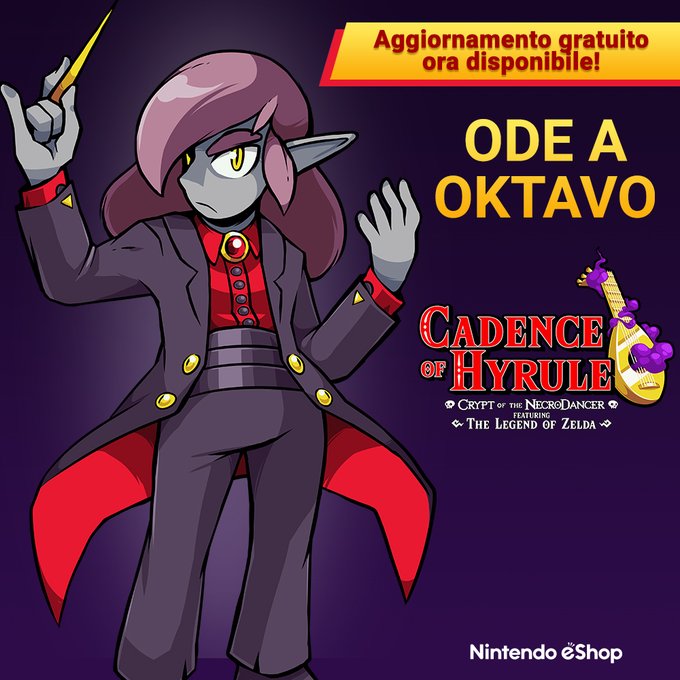 Qualche ora fa e' stato pubblicato un nuovo aggiornamento per Cadence of Hyrule – Crypt of the NecroDancer, disponibile ora su Nintendo Switch.
Il titolo che vede l'incontro tra la serie di The Legend of Zelda e Crypt of the NecroDancer, è stato pubblicato lo scorso 13 giugno 2019 sull'eShop europeo, americano e giapponese di Nintendo Switch.
Potete trovare l'annuncio ufficiale, in calce all'articolo.
https://twitter.com/NintendoItalia/status/1207316988713984001
---
---
Cadence of Hyrule – Crypt of the NecroDancer Featuring the Legend of Zelda

In questa nuova avventura a base di ritmo di Brace Yourself Games puoi goderti le meccaniche di Crypt of the NecroDancer nell'ambientazione della serie The Legend of Zelda. Nei panni di Link, o persino della principessa Zelda, esplorerai un mondo e dungeon generati casualmente per salvare Hyrule. Ogni battito di ogni brano remixato di The Legend of Zelda ti dà la possibilità di spostarti, attaccare, difenderti e altro, quindi procedi a ritmo e fai vedere ai nemici chi comanda!

Dai moderni lynel ai classici soldati di Hyrule, devi imparare a prevedere i movimenti di ognuno dei nemici in pixel art del gioco per avere la meglio nei combattimenti. Potrai usare un arsenale di strumenti tratti dalla serie The Legend of Zelda, oltre a un'ampia gamma di armi e incantesimi di Crypt of the NecroDancer, per essere pronto ad affrontare i boss più malvagi di Hyrule. Questa volta si sono fusi con strumenti magici assumento nuove e formidabili forme!

 Un titolo di azione a base di ritmo ambientato nel mondo della serie The Legend of Zelda
 Esplora un mondo e dungeon generati casualmente per salvare Hyrule nei panni di Link o della principessa Zelda
 Usa strumenti della serie The Legend of Zelda e armi e incantesimi di Crypt of the NecroDancer
 Supera nemici e boss leggendari in combattimenti basati sul ritmo
 Rimani a tempo di 25 melodie classiche remixate di The Legend of Zelda