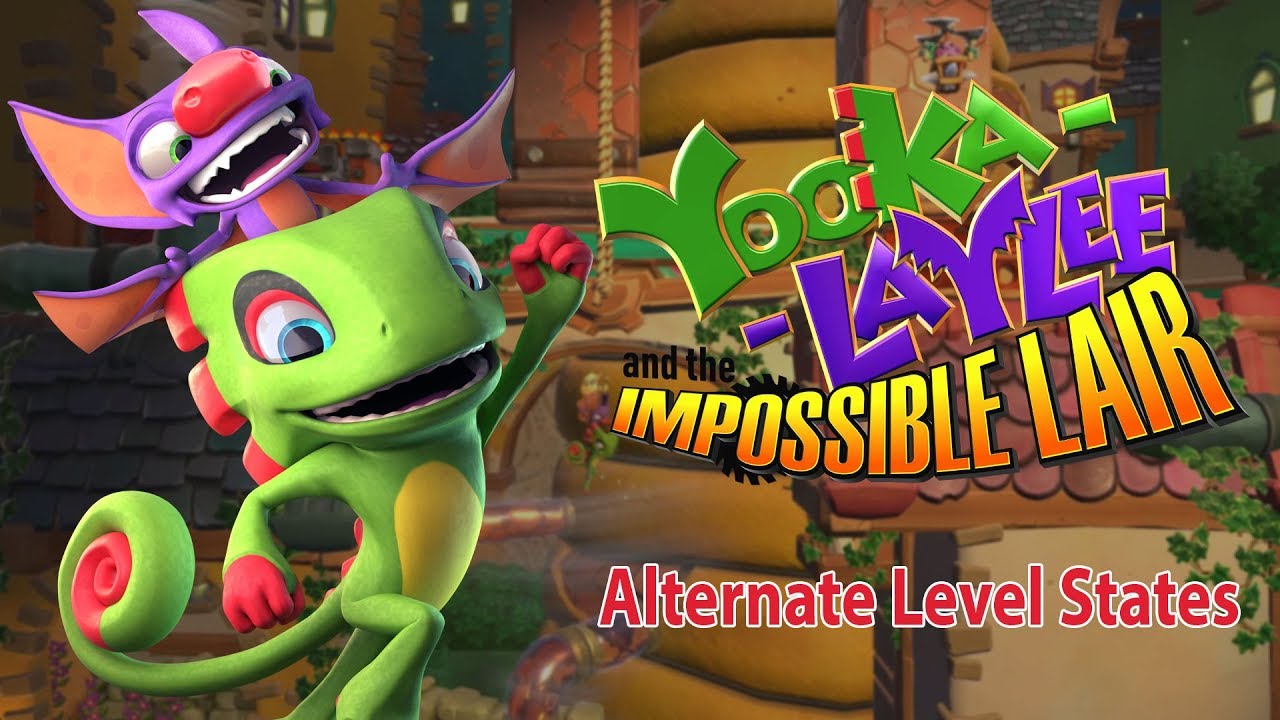 Playtonic Games ha recentemente pubblicato un trailer dedicato a Yooka-Laylee and the Impossible Lair, disponibile prossimamente su Nintendo Switch.
Il sequel del platform 3D realizzato dagli autori originali di Banjo-Kazooie, sarà pubblicato nel corso del 2019 anche sull'eShop europeo e americano di Nintendo Switch.
Potete trovare il video pubblicato in calce all'articolo.
---
---
Industry Veterans Playtonic Games Reveal the Next Game in the Yooka-Laylee Universe

Yooka and Laylee return in an all new platforming adventure

7th June 2019 – Team17, a global games label, creative partner and developer of independent, premium video games in partnership with independent developer Playtonic Games is thrilled to reveal their next game, Yooka-Laylee and the Impossible Lair.

In this new platforming adventure hybrid, Yooka and Laylee must combine their abilities to take on a series of challenging and vibrant 2.5D levels and explore and solve puzzles in a beautiful 3D overworld. It's on them to rescue Queen Phoebee's Royal Beettalion Guard from each level, as they size up Capital B's most dastardly challenge yet – the Impossible Lair.

More information will follow during E3 week, so stay tuned to learn more about Yooka and Laylee's new adventure.

Yooka-Laylee and the Impossible Lair will be heading to Nintendo SwitchTM, Xbox One, PlayStation 4, and PC in 2019. A boxed console version will also be available.

To keep up to date with all the information on Yooka-Laylee and the Impossible Lair please like us on Facebook, follow us on Twitter and join us on Discord.

For more information please contact:
Bethany Aston – PR & Events Manager – Team17
[email protected] // +447508014428

About Playtonic Games
Founded in 2014, Playtonic Games is an independent developer based in Burton upon Trent, UK. Between them, the Playtonic team has over 100 years of combined experience working on legendary gaming franchises and they released the much-anticipated 3D platformer Yooka-Laylee in 2017.

Yooka-Laylee and the Impossible Lair Developed by Playtonic Games. © 2019.  Published by Team17. Team17 is a trademarks or registered trademarks of Team17 Digital Limited.

About Team17 Digital Ltd
Founded in 1990, Team17 Group plc is a leading international video games label and creative partner for independent developers. The portfolio comprises over 100 games, including The Escapists, Overcooked, Yoku's Island Express, Yooka-Laylee, the Worms franchise and many more from developers around the world. Visit www.team17.com for more info.

© 2019 Nintendo