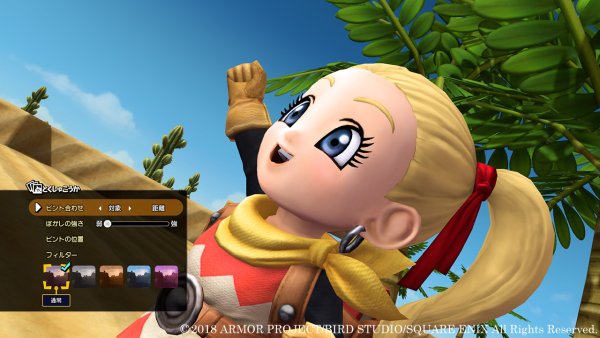 Square Enix ha rivelato la presenza del Bulletin Board e del Builder Pencil in Dragon Quest Builders 2, in arrivo prossimamente su Nintendo Switch.
Dallo stream di Square Enix sono emersi altri elementi non annunciati del titolo, come il Bulletin Board, utile per pubblicare screenshots tra giocatori di tutto il mondo.
Rivelata anche la data di uscita ufficiale della demo, in arrivo il prossimo 6 dicembre 2018 sull'eShop giapponese di Nintendo Switch.
Potete trovare le informazioni rivelate di seguito.
Take Pictures of Your Prided Work in Photo Mode

Dragon Quest Builders 2 includes a Photo Mode, through which you can take pictures of your prided works and beautiful landscapes. In this mode, you can change the point of view, zoom in and out, remove the protagonist from view, and freely take photos. Additionally, you can apply blurring and filters such as monochrome and sepia.

—Zoom in, rotate, and change the perspectives of photos as you please.

—You can even remove the protagonist from view.

—Blur the background and filter your photos.

Post Your Photos on the Bulletin Board and Get Lots of Likes!

If you take a nice photograph, you can post it on the Bulletin Board. On the Bulletin Board, you can see other players' photographs by connecting online. Works that are popular among other players, such as those that receive a lot of Likes!, will take up the most space and attract everyone's attention. Additionally, by publishing a photo in a terrain set, other players will be able to visit the world of your photo. Photo contests that utilize the Bulletin Board are also planned to be held.

—If you take a nice photo, you can share it through the Bulletin Board.

—Works that receive a lot of Likes! will attract everyone's attention.

—You can save the photos you like to your album.

—You can even visit the Vacant Islands of photos to see their beautiful scenery before your own eyes.

Recreate Buildings and Objects by Friends with the "Builder Pencil" Builder Tool

In situations where you want to recreate buildings objects created by friends, you can use the Builder Pencil. This builder tool records blueprints of buildings and objects within the area enclosed by the pencil. By referring to said blueprints, you can make the building or object yourself.

—This is the Builder Pencil.

—By scanning the area enclosed by the pencil, you can record it as a blueprint.

—Refer to the blueprint to make it yourself.

---
Ricordiamo anche il livestream che sarà trasmesso su Youtube il prossimo 14 novembre 2018 dalle 13:00 alle 14:30 (ora italiana), mostrando alcuni altri aspetti del multiplayer di Dragon Quest Builders 2.
Il titolo sandbox dedicato alla serie JRPG di Square Enix, sarà disponibile infatti nel corso del 2019 sui Nintendo Switch europei e americani.
Dragon Quest Builders sarà pubblicato già dal 20 dicembre 2018 sui Nintendo Switch giapponesi, al prezzo di 7,800 yen.
---
Dragon Quest Builders 2 supporterà un Multiplayer (non si sa se solo locale o online, ma è molto probabile entrambe), fino a quattro giocatori, e i blocchi impilabili sono aumentati di tre unità, 64 verso l'alto, 32 verso il basso rispetto al primo capitolo.
Sarà possibile immergersi nel sottosuolo marino, e saranno presenti delle cascate, richieste a gran voce dall'utenza del primo capitolo. 
Dragon Quest Builders 2 si collocherà dopo gli eventi accaduti in Dragon Quest II. Sarà possibile trasferire i dati di salvataggio del primo Dragon Quest Builders su Nintendo Switch, utilizzati e/o trasferiti nel secondo capitolo.
---
Collegando i dati salvati dal primo Dragon Quest Builders, sarà infatti possibile ottenere due oggetti bonus, Legendary Builder's Hat e la ricetta per il Dragonlord's Throne, solamente però se alcune condizioni vengono rispettate.
La prima condizione è che si devono avere dei dati salvati nel quale il "Banner of Hope" sia stato eretto nel primo Dragon Quest Builders.
Per ottenere invece la ricetta per il Dragonlord, che permetterà al giocatore di trasformarsi nel temibile Signore del Draghi, ogni volta che si siederà sul trono, è quella di aver salvato i dati dopo aver completato il capitolo finale di Dragon Quest Builders.
---
In Dragon Quest II, il clerico Hargon che progettava di distruggere il mondo sacrificando la propria vita per convocare il Dio della distruzione: Malroth, fu sconfitto dai discendenti degli eroi, ma un ordine religioso che ha ereditato le intenzioni di Hargon, è apparso con l'intenzione di sradicare i Costruttori in Dragon Quest Builders 2.
La pace successiva la morte di Hargon (in DQII) è terminata con l'ascesa del "Hargon Order", il cui obiettivo è distruggere il mondo. Esso guidò la distruzione di città e castelli in tutto il mondo, e la terra cadde di nuovo in rovina con pochi superstiti ancora in vita.
Per un ordine religioso il cui obiettivo è distruggere e dominare ogni terra, un Costruttore con il potere di creare oggetti è un ostacolo davvero temibile. Il protagonista di Dragon Quest Builders 2, un costruttore, è stato catturato dal "Hargon Order" e gettato in prigione.
Il sottotitolo fa riferimento a Malroth, noto "Villains" apparso nel vecchio Dragon Quest II, e i protagonisti, realizzati da Akira Toriyama, sono discendenti del leggendario/a costruttore/ice che una volta ha salvato il mondo (in Dragon Quest Builders).
Come i loro antenati, anche i nuovi eroi della costruzione potranno usufruire del potere di craftare oggetti, senza però avere l'esperienza necessaria per farlo, affidandosi così al Builder's Book", cercando di diventare un costruttore a tutti gli effetti.
La nuova avventura si svolgerà nella "Vacant Island", un'isola enorme disabitata, senza case o città, dove è presente della lava e solamente un tempio artificiale visibile da una montagna.
---