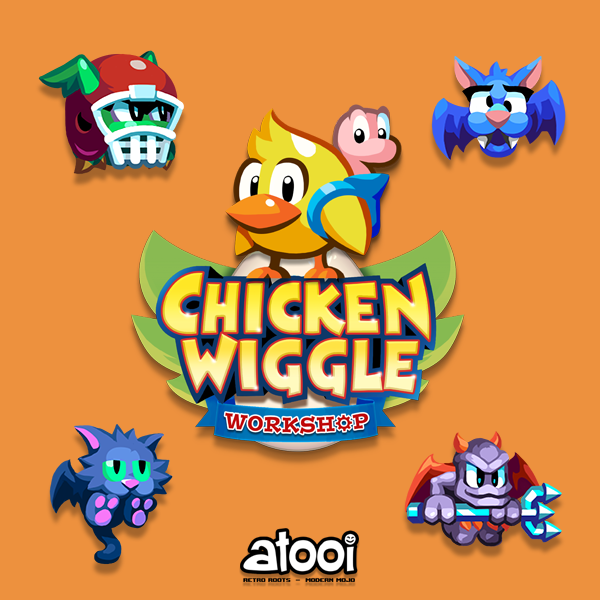 Qualche ora fa è stato rilasciato un nuovo update sulla data di uscita di Chicken Wiggle Workshop, in arrivo prossimamente su Nintendo Switch.
Come svelato a gennaio, il titolo indie di Atooi già approdato negli scorsi mesi sul Nintendo eShop del 3DS, vedrà la luce a inizio del 2019 sull'eShop di Nintendo Switch.
Potete trovare il post pubblicato su Kickstarter, in calce all'articolo.
Enemies, Music & Release Update!

Development on Chicken Wiggle Workshop is progressing very well. A good amount of the new HD art has been completed and most of the new music is finished for the game, and it is all incredible stuff. We think you're going to love it!! But, there is still a lot of work left for us to do.

The original release date estimate for the game was December 2018, but this date will unfortunately not be possible to meet. Our goal is to ensure the game is the best it can be for Nintendo Switch, and that goal is becoming a truly exciting reality as we move forward with each step in development. However, it means that the game will be released later than originally estimated.

Early 2019 is our best new release date estimate we can provide, which we realize is a little vague, but we'd prefer to focus on finishing the game with care and polish so we release the game when it is ready to meet the high expectations that both you and the team share for this game. We appreciate your understanding and patience. Our hearts and minds are focused on what is best for Chicken Wiggle Workshop, and we're confident you'll love the results.

Onto the fun stuff. We have some new enemy art and music to share with you! Check them out below!!