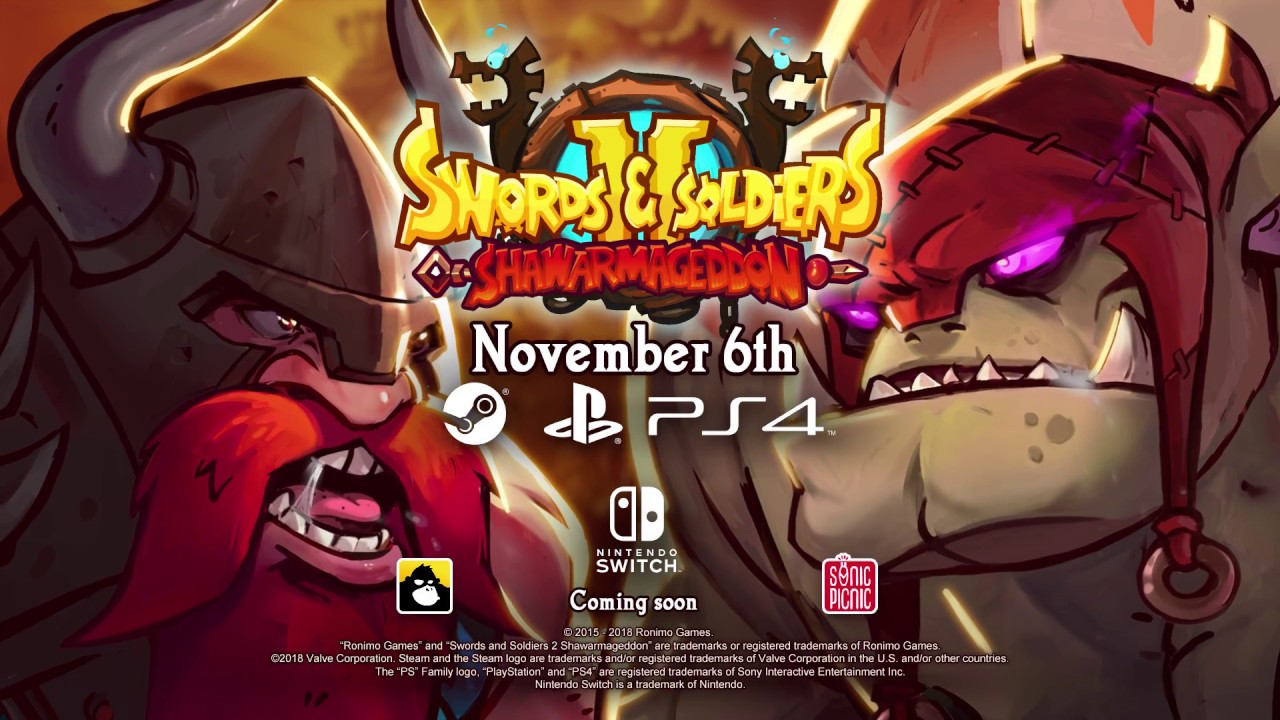 Poche ore fa è stato pubblicato un video gameplay su Swords & Soldiers II Shawarmageddon, disponibile prossimamente su Nintendo Switch.
Il titolo Real Time Strategy di Ronimo Games sarà infatti pubblicato, grazie a Engine Software sull'eShop europeo e americano di Nintendo Switch nel mese di dicembre.
Potete trovare il trailer in questione, in calce all'articolo.
---

Side-scrolling strategy arrives this November on PC and PlayStation®4, and soon on Nintendo SwitchTM!

Ronimo Games just announced that their side-scrolling action strategy game Swords and Soldiers 2 Shawarmageddon will be released on PC and PlayStation®4 this November 6, and on Nintendo Switch™ soon after!

Hungry for some Shawarmageddon? Watch the announcement trailer here: https://youtu.be/3UHFQv_oKa8

Make sure to add the game to your wish list on Steam now!

So what's included in the Shawarmageddon? 
Swords and Soldiers 2 is a strategic multiplayer lane defense game coming to PC and PlayStation®4 this November 6, with a Nintendo Switch™ release to follow! Vikings face off against Persian and Demon armies in ferocious battles across the globe. Push the enemy back and smash their base with a legion of distinct units, spells and structures. If your opponent's base still stands after all that, break the deadlock with one of the powerful heroes.

A 10 hour single player campaign sees you race against time to stop a tasty but terrifying apocalypse and is further bolstered by plenty of bonus challenges and mini-games. What begins as a simple mission to recover your favorite shawarma snack becomes a battle to prevent Shawarmageddon! Along the way you'll also collect units, spells and structures, which will allow you to build your own crazy mix by using the custom army feature. Build the army of your dreams – even use units from all three factions at once! Then, once your beard has grown and your swords sharpened, you can test your mettle either in local multiplayer or against other chieftains from around the world in online multiplayer!

Before the release, there will be a beta period on PC from today until November 4 for feedback on the multiplayer mode. Free Steam beta keys will be sent out to all members of the official Ronimo Games Discord channel at http://discord.gg/ronimo. So make sure to join now and get your key!

How long has this been cooking? 
The prequel Swords and Soldiers HD, which saw the Vikings battling Aztec and Chinese armies, was released in 2009 and since then has sold close to a million copies. The first version of the sequel Swords and Soldiers 2 featured more resource management, hero units, and much more. It was released exclusively on the Wii U in 2015. After receiving great reviews from critics and players alike, including 90 from Destructoid and 85 from Nintendo Enthusiast, Ronimo

was determined to bring it to a wider audience one day. When Ronimo Games hit their 10 year anniversary last year, and nostalgically looked through their portfolio, they all had the same thought – why haven't we done this yet?! Now, after testing the new expanded version thoroughly with fans at various game events, they can happily say that the day is almost here!

Nintendo Switch™
It's official – Swords and Soldiers 2 will be released on Nintendo Switch™! The Wii U version had a great reception of course, and after many requests from the community we just had to look into a Switch™ release. We did a few tests, and decided to go for it. After some hard work we even have split-screen multiplayer working… and it's awesome! We're now working out the final details, and expecting to release in December. More news will follow!