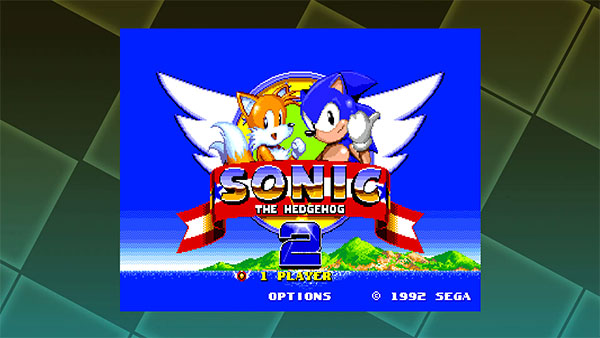 SEGA ha recentemente pubblicato dei nuovi screenshots sui titoli in arrivo della linea SEGA Ages, presto disponibile sull'eShop di Nintendo Switch.
Sonic the Hedgehog 2, Columns II, Out Run e Thunder Force AC, andranno infatti ad arricchire la collection di titoli classici del SEGA Ages su Nintendo Switch.
SEGA Ages è una nuova serie di titoli "classici" in formato digitale, che saranno realizzati dalla solita M2 per l'eShop di Nintendo Switch e pubblicati la prossima estate, anche sul suolo europeo.
Sega Ages: Out Run

Even More Songs on Top of the 3DS Additions – The Nintendo Switch version supports wide-screen and 60 frames per second graphics. The additional background music tracks added to the 3DS version, "Cruising Line" and "Camino a Mi Amor," are included in the Switch release in addition to three songs from successive Out Run series titles, arranged to match the sound style of the first Out Run. As for which songs will be used, stay tuned for more information.
Gyro Controller Support – Gyro sensor support allows you to play while moving the device like the arcade handle.
The Additional Elements from the 3DS version, Including Machine Tuning – The tuning elements added to the 3DS version are included. Change the performance of your car with the addition of four part types: cornering, engine, tire, and bumper.

Sega Ages: Columns II

Online Battles – Not only can you have offline battles in table mode, you can also enjoy long-awaited online battles.
Easy Difficulty Support – While Columns II is famous for its high difficulty, you can change the settings to make it less difficult from the original version. Aim to clear every stage!

Sega Ages: Thunder Force AC

Online Rankings – Online rankings have been added such as All Difficulties-Combined Score Attack, Normal Mode-only Score Attack, etc.
Easy Mode – The "Kids Mode" added in the Sega Saturn port of Thunder Force GP2 can be used to play the game with lower difficulty. A rapid-fire feature and such will also be included.
Even More Additional Elements – Even more Sega Ages-only additional elements are being prepared. Stay tuned for more information.

Sega Ages: Sonic the Hedgehog 2

Additional Actions – The "drop dash" action added to the latest classic Sonic game Sonic Mania has been added to the Sega Ages version of Sonic the Hedgehog 2. Run through familiar stages using the new action!
Online Rankings – Online rankings are being prepared for Time Attack Mode.
Super Sonic Mode and Other Elements from the 3DS Version – The "Ring Keep" and "Super Sonic Mode" additions from the 3DS version will reappear in the Sega Ages version. Super Sonic Mode lets you play with possession of all the Chaos Emeralds from the beginning of the game. The Chaos Emeralds allows Sonic to transform into Super Sonic, who has overwhelming speed and strength.
---
Sonic the Hedgehog e Thunder Force IV e Phantasy Star, saranno i primi due classici di SEGA che approderanno a settembre sull'eShop giapponese di Nintendo Switch il 20 settembre, al prezzo di 925 yen ciascuno.
Sonic the Hedgehog avrà lo Spin Dash, così come nella versione per l'eShop del 3DS, Thunder Force IV invece avrà le classifiche online e la Styx Mode, ripresa dall'edizione SEGA Saturn.
Tra i giochi proposti, che saranno oltre quindici di numero, potremo trovare classicissimi come Sonic the Hedgehog, Thunder Force IV e Phantasy Star, oltre a Alex Kidd in Miracle World e Gain Ground.
---
SEGA rilancia SEGA AGES su Nintendo SwitchTM!

---

SEGA of America ha annunciato oggi che SEGA AGES, la raccolta nata per portare i grandi classici del videogioco su console moderne, tonerà su Nintendo Switch™. Questa serie dedicata al retrogaming debutterà in Giappone, America del Nord ed Europa nel corso della prossima estate.

I primi cinque giochi annunciati di SEGA AGES includono due capisaldi del catalogo Sega Master System, come Phantasy Star e Alex Kidd in Miracle World, o capolavori originariamente pubblicati per Sega Mega Drive, come Thunder Force IV e Sonic the Hedgehog, e il port della versione arcade di Gain Ground. Questa raccolta, tra l'altro, segnerà il debutto ufficiale in occidente di alcuni titoli. I primi giochi di SEGA AGES saranno pubblicati nell'estate del 2018, e maggiori informazioni arriveranno prossimamente.

SEGA AGES:
SEGA Ages è una raccolta di classici SEGA che sarà pubblicata su Nintendo Switch™. Sviluppato da M2, uno studio giapponese conosciuto per realizzare port di grandissima qualità dei videogiochi classici, come la popolarissima raccolta SEGA 3D Classics per Nintendo 3DS™, SEGA AGES ha come obiettivo quello di portare a un vasto pubblico di appassionati di tutto il mondo i giochi più famosi del catalogo SEGA. Da una selezione di classici per console casalinghe, fino a una grande varietà di giochi arcade emulati alla perfezione, SEGA AGES darà ai fan la possibilità di costruire la loro personalissima retro-collezione griffata SEGA.

SEGA AGES debuttò originariamente come SEGA Ages Vol.1 Shukudai ga Tant-R, una raccolta che conteneva i port di Puzzle & Action: Tant-R e Quiz Shukudai wo Wasuremashita, originariamente pubblicata per SEGA Saturno nel 1996 in Giappone. Nel corso del tempo, la serie SEGA Ages è cresciuta e ha proposto dozzine di conversioni migliorate di titoli usciti originariamente su piattaforme diverse. La serie è sbarcata anche in occidente nel 1997, sempre su SEGA Saturn, con SEGA Ages: Volume 1, una raccolta contenente Space Harrier, OutRun e After Burner II. Il reboot di SEGA AGES arriverà su Nintendo Switch™, proponendo ai fan le migliori versioni possibili di titoli del catalogo Sega Master System, Sega Mega Drive e arcade. Come è lecito aspettarsi da geni del retrogaming come M2, i giochi presenti nella raccolta saranno fedelissimi agli originali, ma saranno anche arricchiti da nuove caratteristiche uniche in grado di aggiungere dettagli nuovi e interessanti al gameplay originale.

SEGA® of America, Inc.