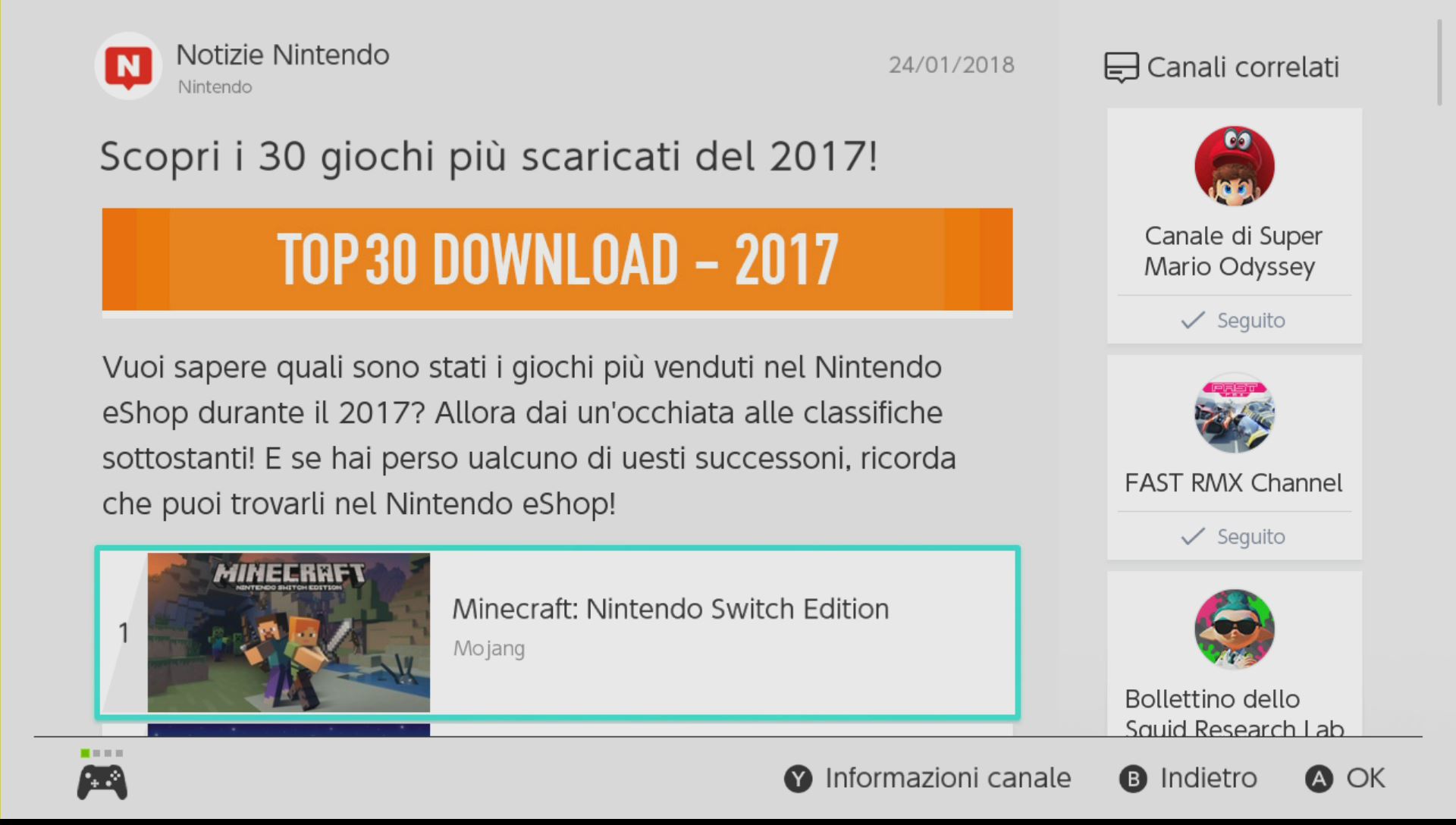 Tramite il Canale "Notizie" presente nella sezione News di Nintendo Switch, vengono svelati i trenta titoli più scaricati del 2017 sul Nintendo eShop.
I titoli entrati della TOP 30 Download del Nintendo eShop del 2017, vedono in prima posizione il solito Minecraft: Nintendo Switch Edition, seguito dal tanto apprezzato Stardew Valley, ed in terza posizione c'è Rocket League, attualmente il titolo più venduto delle ultime settimane.
Gli altri della classifica sono stati Mario Kart 8 Deluxe, Sonic Mania, Super Mario Odyssey, Snipperclips – Diamoci un Taglio, FAST RMX, Shovel Knight: Treasure Trove, Overcooked Special Edition, Splatoon 2, The Legend of Zelda: Breath of the Wild, Mario + Rabbids Kingdom Battle, Snake Pass, Wonder Boy: The Dragon's Trap, Steamworld Dig 2, NBA Playgrounds – Enhanced Edition, 1-2 Switch, KAMIKO, FIFA 18, Oceanhorn – Monster of Uncharted Seas, Arcade Archives Mario Bros., Golf Story, I am Setsuna, Super Bomberman R, ARMS, The Elder Scrolls V: Skyrim, ACA NEOGEO METAL SLUG 3, Shantae: Half-Genie Hero ed ultimo Xenoblade Chronicles 2.
Potete trovare l'intera classifica  nell'immagine in calce all'articolo.