Il Nintendo eShop ha listato l'arrivo di due titoli indipendenti, Oh…Sir!! The Insult Simulator e Oh…Sir! The Hollywood Roast, in arrivo nei prossimi giorni sui Nintendo Switch europei.
I due titoli simulativi di Gambitious verranno pubblicati sull'eShop europeo di Nintendo Switch, il prossimo 18 gennaio 2018 al prezzo di €2,29/€3,49.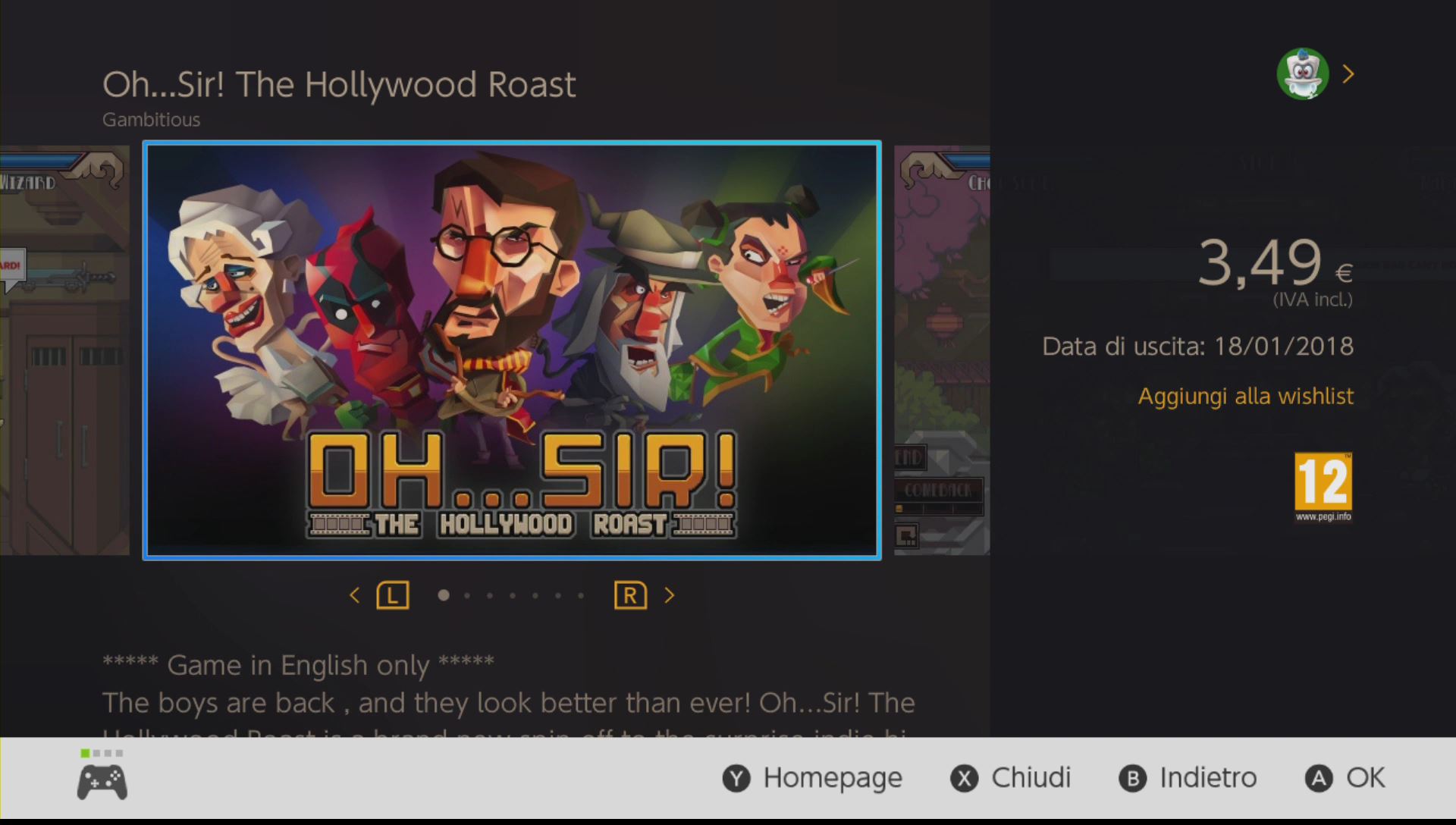 Potete trovare informazioni sui due titoli, insieme ai trailer, in calce all'articolo.
The parrot is back from the dead bringing countless new insults for your disposal, Sir! Remember that silly game that parted lovers, destroyed families and turned friends into enemies? Here's its successor that does even more, certainly with more style and more variety. And I have proof! This time you can spread affront to everyone in the world that has Internet access or – if you're not the most sociable – you can sit alone and play with yourself. Nudge nudge.

So don't let the parrot die for nothing and tell that grumpy old lady that her husband donated organs for a strange woman lying in a pond and that her sister poses nude for some dog. Then meet a retired hipster who admires pictures of a grunting sow, and a fake Russian who borrowed a dead body to put his teacup and crumpets on. It's also the only game that lets you learn what's The Meaning of Life, and that's scientifically proven!

Game Features:

Loner's Insult Tournament Mode: Battle your way through numerous unique situations and verbally assault your CPU
Real-Life Friends Mode: Belliger your actual friends on a couch, ottoman, or whatever else you like to rest your fanny on
Imaginary-Friends Mode: Verbally take down strangers from all over the world online, and bring the witty pain across any device using the game's Cross-Platform Multiplayer
5 Hilarious Playable Characters: Each with their own unique voices, quirky traits and hilarious "insult bits"
Legendary Potty Mouthed Unlockable Heroes: Lay down some verbal carnage and unlock renowned potty mouthed special guest fighters, including Shadow Warrior's Lo Wang, Serious Sam, the infamous Postal Dude, with more additions to follow soon.
4 Conflict Scenarios: Lay down some verbal jujitsu across 4 different testy situations and dynamic environments
Contentious Battle System: Employ combos, criticals, continuations and other new mechanics to outwit your argumentative opponents!
The boys & girls are back, and they look better than ever! Oh…Sir! The Hollywood roast is a brand new spinoff to the surprise indie hit 0f 2016, Oh…Sir!! The Insult Simulator. This time around we're taking tinsel town down a few notches, whilst classing up the joint. Play as one of many famous, but for legal purposes, slightly different pop culture icons and verbally spar with other Hollywood elitists using a deep battle system

Verbally joust by yourself or take you verbal skills on a global PR tour and battle friends and family from anywhere in the world.

Game Features

Unleash the sickest burns on your opponents in a Hollywood-style roast
Play alone, online or couch multiplayer
Deeper-than-you-think mechanics featuring combos, continuations and exploiting your rival's weak spots
A star-studded new cast of crazy Hollywood characters
Free updates with new characters and scenes coming soon to a screen in your house
Set the scene with a slew of iconic film backdrops
With the new Character Creation Mode powered by Steam Whatever, you can create your own formulaic celebrity clones in a lab– just like they do in real Hollywood!
New controller integration that critics everywhere are calling "gripping"
With more than 2x the vocabulary of the original Oh…Sir!! The Insult Simulator, The Hollywood Roast is Bigger, ruder and insultier!
New comeback mechanic: charge your anger and finish the sentence with a unique closure
Expanded career mode: master each scene to win Golden Parrots and use them to develop your character
Redesigned scoring system: more fair, more clear.