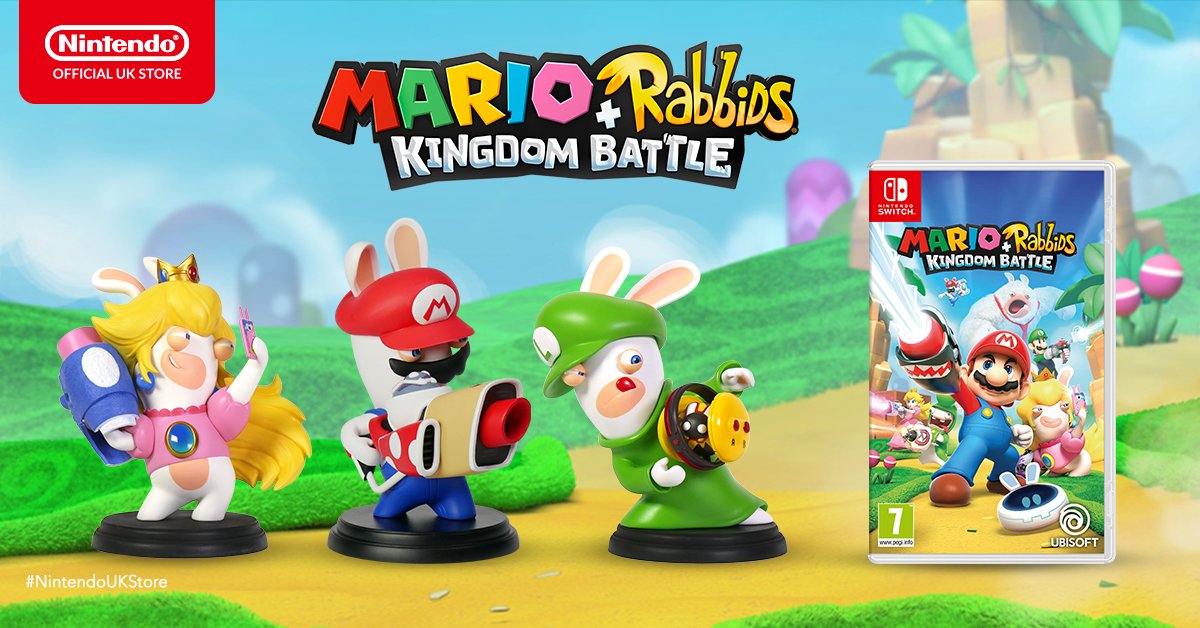 Nintendo UK ha inserito Mario + Rabbids Kingdom Battle per Nintendo Switch, in preorder sul Nintendo UK Store, con le figure dei Rabbids presenti nel gioco.
Da ora è infatti possibile preordinare la copia singola del gioco, ma anche le varie statuine (o figure se preferite), dei vari Rabbids con sembianze di Mario, Peach, Yoshi e Luigi, presenti all'interno del titolo di Ubisoft.

Al solito vi ricordiamo che Mario + Rabbids Kingdom Battle arriverà il prossimo 29 agosto 2017, in esclusiva per Nintendo Switch. . Potete trovare il tweet dell'annuncio di Nintendo UK, in calce all'articolo.
BWAH! Mario + Rabbids Kingdom Battle and assorted figurines are available to pre-order at the #NintendoUKStore! https://t.co/QYmuKpYjNP pic.twitter.com/oULxxVt2Ts

— Nintendo UK (@NintendoUK) 4 agosto 2017
Join Mario, Luigi, Princess Peach, and Yoshi as they team up with their Rabbid counterparts to explore a new world twisted by the mischievous Rabbids, filled with secrets and nods to classic Mario games!

Outwit unpredictable enemies in dynamic turn-based combat and co-op challenges, and solve puzzles along the way. Discover a feel-good and modern combat adventure designed exclusively for the Nintendo Switch system, playable anywhere, anytime, with anyone.

Release Date: 29th August 2017

---

Questa è la storia di un incontro inatteso tra Mario e gli irriverenti Rabbids. Il Regno dei Funghi è stato travolto da un vortice misterioso che ha trasportato i Rabbids in questo luogo una volta pacifico.

Per riportare l'ordine, Mario, Luigi, la principessa Peach e Yoshi uniscono le forze con gli eroi Rabbids in un viaggio attraverso quattro mondi diversi.

Unisciti a questi otto eroi per esplorare un nuovo mondo ricco di segreti e riferimenti ai classici giochi di Mario! Sconfiggi nemici imprevedibili in combattimenti a turni dinamici e sfide co-op e supera gli ostacoli che ti sbarrano la strada. Sblocca nuove funzioni nel gioco con gli amiibo (venduti separatamente).

Scopri un avventura ricca di combattimenti creata in esclusiva per Nintendo Switch, che puoi giocare dove, quando e con chi vuoi.

Mario + Rabbids® Kingdom Battle sarà disponibile dal 29 agosto 2017, solo su Nintendo Switch.

Ti preghiamo di notare che tutti i contenuti, video e immagini sono basati sulla versione di questo software presentata all'Electronic Entertainment Expo di giugno 2017. Torna a visitarci per ulteriori informazioni!